Here we get new today job updates for Freshers and 2020 Pass outs of engineering / Degree / Diploma students. In below we updated It jobs & Non-It Jobs for Freshers students, So all over India (PAN India) are eligible to apply below job Openings. And This Freshers jobs Page is only for Freshers job seekers. we get it jobs for 2020 pass out as well Engineering jobs for 2020 batch Year of pass Openings are updated below. This Freshers Job Openings 2020 batch page is useful to all Freshers Job Seekers as well as 2020 Pass outs batch students of engineering and degree graduates can apply to these openings.
2020 PassOut Job Openings for Degree/ Engineering/Diploma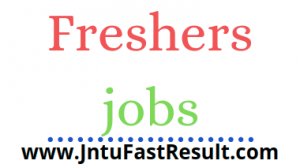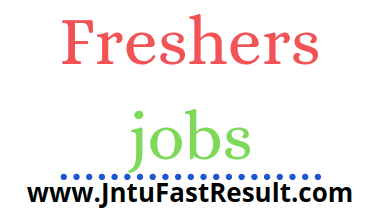 Freshers Jobs Openings For 2020 Pass Out Batch
Last Updated on 22nd July 2020
Note: This Page is Updated Every 48 Hours with New job Openings, So please share this useful page with all your friends and suggest this page to Freshers Job Seeker. Our(www.JntuFastResult.com) Aim is to give the best opportunity and All Freshers job in one place. 
Intel Intern Recruitment 2020 | Graduate Intern Technical | Bangalore
https://jobs.intel.com/ShowJob/Id/2399202/Graduate%20Intern%20Technical
Qualifications
* M.Tech Degree or pursuing M.Tech degree in Computer Science, IT or equivalent domain
* Good software engineering concepts, OOPS, Design Patterns,
* Good programming experience in scripting and programming languages like python, JavaScript, Shell programming, Java/C++
* Good knowledge and experience on web/cloud application development, Databases(both SQL, NoSql)shall be preferred.
* Good knowledge of DevOps tooling(github/gitlab), practices shall be preferred as well.
* Good experience in AI/Deep Learning specially Computer Vision domain will be huge advantage
========
MathWorks Recruitment 2020 for Product Developer at Hyderabad
Education: B.E / B.Tech
Last date: ASAP
Job Location: Hyderabad
Skills: MATLAB
Experience: Freshers
Job Code: MathWorks Product Developer Job Opening
https://www.mathworks.com/company/jobs/opportunities/20738-associate-in-engineering-development-group
=======
Logic Fruit Technologies has some openings for RTL design (FPGA design) for 2019/2020 batch IIT/NIT Electronics branch. We are open for people who are working in a different domain and wants to change in core electronics role.
email i.d. is deepak.goyal@logic-fruit.com
========
We are hiring SAP BASIS Freshers // 0 years experience // Knowledge in HANA systems is an added advantage // Hyderabad // Send profile to poornima@togglenow.in
#sapbasis #hyderabadjobs #freshersjobs #fresherjobs #fresherhiring #freshersworld #saphana #basis
========
AppEnsure Off Campus Recruitment For Fresher Across India
Job Role: Associate Software Engineer
Eligibility: B.E./B.Tech, M.E./M.Tech, MCA, MSc
Job Location: Hyderabad
Experience Required: Fresher
https://www.naukri.com/job-listings-associate-software-engineer-appensure-india-pvt-ltd-hyderabad-secunderabad-0-to-0-years-070519003177
========
Sartorius Recruitment 2020 for Graduate Engineer Trainee at Bangalore
Education: B.E / B.Tech (Mechanical)
Last date: ASAP
Job Location: Bangalore
Skills: Microsoft Office
Experience: Freshers
Job Code: Sartorius Graduate Engineer Trainee Job Opening
https://www.sartorius.com/en/company/career/vacancies-job-opportunities/graduate-engineering-trainees-bangalore-518592
========
Icertis Internship For Freshers Across India
Job Role: Intern (.NET Developer)
Eligibility: B.E./B.Tech
Job Location: Pune
Experience Required: Fresher
https://jobs.lever.co/icertis/56fc62fb-1fdb-4918-9058-ed322ddd5c66
=======
Hiring Freshers who are Certified Salesforce PD1 with 0-1 Years experience.
Work Location: Hyderabad
Interested please share your profile to Jagadish.k@etggs.com
www.etggs.com
#salesforcedeveloper #Salesforcefreshers #pd1 #salesforce #fresherjobs
=======
We're Hiring Fresher 2019 batch alone!!
Looking for Software Quality Assurance for Chennai location
Experience: 0 to 1 years
Skills: Manual testing, good in communication
Interested, share the resume to lourduchinnappa.rajan@integra.co.in
=======
Hiring — Junior Java Developer 0-5 years– Opt-visa holders can apply– w2 only — no contract– Great job opportunity for the freshers.
Junior Java/C++ Software Developer
We are seeking a passionate software developer that is looking to make a mark in the world. The ideal candidate must have
Java and ideally C/C++ skills.
Familiarity with modern software development tools and methodologies.
CS degree or active GitHub profile
Must share your resume at ashish@blueera.com
========
Tudip Technologies Recruitment 2020 For Cloud Engineer
Qualification : B.E / B.Tech / MCA
Work Experience : Fresher
https://www.firstnaukri.com/job-listings-Hiring-Cloud-Engineers-for-Pune-Location-jobs-in-Pune-in-Tudip-Technologies-Private-Limited-100720600011
=======
Great opportunity for Entry level developers!
Skill – .Net and angular
Experience – 0-1 yrs
Location – Pune
Share your CV gayatri@bodhitree.org.in
……………………………
Opening in my Organization for fresher (B.E or B.Tech) looking for Career in Software Development.
Work Location is Gurgaon.
You can reach me at seema.joshi@samparksolutions.com
========
Hiring 10-20 freshers for a start up company!
3 months training on UI technologies and product. Post training upto 20 trainees will be absorbed into the project.
Company Name: Novodhi Solutions
Location: Hyderabad, India
Training: Remote
Work Location: Remote
Training start date: August 15th 2020
Requirements:
1. Fresh graduates with min 65% academic score.
2. Good written and communication skills.
3. Basic coding skills with passion to learn latest technologies.
4. Positive attitude, motivated, and a fast learner.
Reach out to kavya.mondem@novodhi.com for more information and Interested candidates please forward your resume to the same.
========
(FRESHERS) 'Agilisium' : Software Developer @ Chennai –
https://www.naukri.com/job-listings-hiring-for-fresher-sql-java-python-agilisium-india-pvt-ltd-agilisium-consulting-india-private-limited-chennai-0-to-1-years-060720003454?src=jobsearchDesk&sid=15941585445487145_7
Kindly Share your resumes to referrals@agilisium.com
Required Skills : SQL/Java/Python
Eligibility:
2019 & 2020 B.E / B.Tech (CSE, IT ) Graduates
Must have scored min 70% in 10th, 12th and UG (Without any standing arrears).
Must have hands on knowledge in any one of the programming language C, C++, Java, Python
=======
Company: Neetable Technologies
Location: Bangalore
You can directly mail your resume to divya@neetable.com mentioning the profile name in the subject line.
hiring Freshers
1. Testing
2. UI/UX designer
3. Project coordination – MBA freshers
=======
Allscripts looking for 6 months to 1 year candidates who are good with C#.net with excellent knowledge of programming/Coding for Pune location.
Note: This would be an intern position and on contract(based on your performance the contract is extendable or you will be converted to full time employee)
If interested kindly share your resume at shweta.patil@allscripts.com
=======
Any freshers looking for a job in data science. Should be good in mathematical modelling , statistics etc Contact Dilip on whatsapp – +917757012052
Email your resume to dillip.parhi@enosissolutions.com
=======
Urban Ladder is looking to hire an a DevOps Engineer/Sr. DevOps Engineer with about 0-5 years of experience, who is willing to come on board with us in Bangalore!
If you think you are the right fit, take a look below and write to surbhi.jain@urbanladder.com
https://media-exp1.licdn.com/dms/image/C4E22AQGsP1ZTa5LByw/feedshare-shrink_800/0?e=1597881600&v=beta&t=FfFmRTzhPdN4e3pEL5naNtCq9Dhyds87ebcm2F1rlQg
=======
Indigi Consulting & Solutions Pvt Ltd is Hiring Fresher 2019/2020 batch alone!!
Looking for B.Tech/ B.Com/M.Com/MBA Graduates
Experience: 0 to 1 years
Skills: Manual testing, good in communication
Criteria- He/She should be a resident of Mizoram.
Interested, share the resume to career@indigiconsulting.com
=======
DCT is Hiring Freshers.
Kindly share your resume at Sana@dctecs.com
Position – 2
Designation – Android & IOS Intern
Qualification Required – BE/B.tech (CS/IT) Fresher
Location- Bhopal
=======
Opportunity in Robotic Process Automation – RPA Intern – Bangalore
Kovaion Consulting India Private Limited4.0(11 Reviews)
0 – 1 years
Not Disclosed
Bengaluru
https://www.naukri.com/job-listings-Opportunity-in-Robotic-Process-Automation-RPA-Intern-Bangalore-Kovaion-Consulting-India-Private-Limited–Bengaluru-Bangalore-0-to-1-years-170720000324
=======
HCL is hiring for product testers in chennai. Freshers are eligible for this job.
Our Requirements:
Graduation (BE, B.Tech Graduates (except Automobile, Civil & Marine), BSc (Physics, comp, IT)
MSc (comp), BCA & MCA)
– The opening is only for Freshers (2017, 2018 & 2019 pass outs)
– Candidate must possess Decent or Average communication skills
– Typing Knowledge Required
– Willingness to work in Rotational Shift
– Willingness to relocate near Navallur Location if required
– Good attitude towards learning
– Good in Basics of MS Office
Job Description Non-Voice process: –
To Test the quality of raw materials, assemblies, products and components supplied by the customer
(1.) To comply to agreed SLA/ customer timelines and adhere to the high-quality norms set to ensure zero-error
(2.) Quality testing of Printer, Paper, machine configuration, Driver and Firmware installation/update
(3.) Capturing Logs, Traces for the Events/Defects raised
(4.) Supporting Test Interface team in terms of bucketing the entire Defects which helps the Development team & Testing Team to fix the issues
Other Benefits:
-Free Transportation for women (Door pickup & drop – T&C Applied)
-High Standard Environment
-Exposure with world-class certified trainers
*Please note that 2020 pass outs are not eligible.
Job Type: Contract Role
Work Location: HCL Navalur office, Chennai
Shifts: Day Shift and Rotational Shifts
Interested candidates can send their resumes to the below mentioned email address
ayeshaa@hcl.com
Regards,
Ayesha Anjum S
Talent Acquisition Group
HCL Technologies Ltd.
=======
ThiDiff Off Campus Recruitment For Fresher Across India
Job Role: Software Tester – Manual
Eligibility: B.E./B.Tech, BSc, BCA
Job Location: Bangalore/ Remote
Experience Required: Fresher
http://www.thidiff.com/job/software-tester-manual-fresher
========
We would require a candidate to the below mentioned position.
Position : Mobile App Developer
Technology : Flutter
Exp Level : 0-2 yrs.
Time : Full Time
Work Location : Chennai
Covid 19 Temporary Work from home, Post Pandemic regular office work
Job Description
– Desire to work in a startup environment, able to self-manage and work remotely
– Must have built at least one Android and/or iOS apps with Flutter
– Proven working experience in software development
– Working experience in mobile development
– Have published one mobile apps in Google Play or App Store
– Experience with third-party libraries and APIs
– Working knowledge of the general mobile landscape, architectures, trends, and emerging technologies
– Solid understanding of the full mobile development life cycle, including automated testing and building
Note : Immediate Joiner only
Kindly share profiles to – sakthi@bitaacademy.com
========
Talentiro is looking for candidates for the Software Engineer Trainee
Position Title – Software Engineer Trainee
Location – Delhi
Working mode – Remotly/Work from home
Stipend – (10K- Training period 3 months) and based on performance candidate will be considered for full time.
Roles and Responsibilities
1. Deployment in Windows (IIS) and Linux (Ngnix) application, Test and Production Server in Website/API/Portal. Also executes SQL server scripts in all databases.
2. Regular Backup of SQL Server, Application and documentations.
3. Daily network monitoring of unauthorized activities (requests) in server. Daily virus or malware monitoring and reporting.
4. Daily Training on Dot Net and SQL Server and complete development related task assigned by Dev Team.
5. Research on Icons, graphics and illustrations and graphical library creations.
6. Document and Flow creation for each functionality and Regular Manual Testing of Application.
Skills Required
1. Having knowledge in dot net technology would be preferred.
2. Having knowledge in cloud servers like AWS/Azure would be preferred.
Please share your CV at
shellysaraogi@talentiro.com
========
Indigi Consulting & Solutions Pvt Ltd is Hiring Fresher 2019/2020 batch alone!!
Looking for B.Tech/ B.Com/M.Com/MBA Graduates
Experience: 0 to 1 years
Skills: Manual testing, good in communication
Criteria- He/She should be a resident of Mizoram.
Interested, share the resume to career@indigiconsulting.com
=======
We are hiring for remote positions, starting immediately.
– Data Analyst
– Business Development Intern
– Content Writing Intern
Pune
If interested, apply here
https://suplai.aviahire.com/all-openings
======
Urgently Hiring for following profiles.
Experience Req.
#Ios Developer – 6 Months to 3 years
#Android Developer – 6 Months to 3 years
#Graphic, UI UX Designer – 6 months to 1.5 year
#PHP Developer (laravel , CI ,) – Freshers to 3 years
#Ionic , #Flutter Developer – 1 to 3 years
Those who are ready to join can apply.
Interested candidate may reach on
07314969546 or Hr@cloudwapp.com
Address – 210 3rd floor onam plaza AB Road Indore
========
Dear Job Seekers !!!!!!
Urgent requirement of #iosdeveloper at Dream works softwares.
Experience :- Fresher to 3 yr
Salary :- As per industry standard , no bar for deserving candidates.
Location:-Indore
Interested candidates share your resume at hr@dreamworkssoftwares.com
=======
We are hiring for our company in Surat location.
Positions – PHP Developer
Location – Surat
Required skills:-
Any graduate / 12th qualified candidates can apply
Good communication skills
Good presentation skills
Basic Knowledge of HTML/CSS/JQUERY
Freshers can apply
Interested candidates can drop their profiles on below contact details……..
Mail – sciontechnospace@gmail.com
Direct – 9723292122
========
Plintron hiring B.E(ECE) 2019/2020 passed out Freshers (0-1 yr) as Telecom Trainees,
Eligibility Criteria:
* Education: B.E(ECE) – 2019/2020 passed outs , No Current Arrears
* Consistent 60% marks throughout (10th, 12th, UG / PG)
* Good communication skills
Role:Trainee(For 1 year)
Skills :
NSS
STP
Professional services
CTC: 2L – 2.75 L
CANDIDATES MUST BE WILLING TO SIGN A 3-YEARS OF AGREEMENT WITH US, WHICH IS NON-BREAKABLE.
Work Location:Chennai
Venue:
Plintron
Block 6, GKS Tech Park , 3rd Floor
DLF-Tech Park, 1/124 Shivaji Gardens,
Ramapuram,
Chennai – 600089
Interview process:
Level 1: Initial HR Screening & Aptitude(Face-to-Face)
Level 2: Technical(Depends upon the skill sets – Skype)
Level 3: HR Discussion
If interested please share your updated CV to deepika.sb@plintron.com, Please refer your friends.
=======
(FRESHERS) 'Crashmeal' : Database Administrator @ Hyderabad –
https://www.naukri.com/job-listings-data-base-administrator-fresher-crashmeal-services-inc-hyderabad-secunderabad-0-to-2-years-150720501463?src=jobsearchDesk&sid=15949327684438036_6
=======
Hiring Alert!!!
#SBInnovations hiring for the profiles:
#Webdesigner & #Wordpressdeveloper
#Experience required for both #Positions: Fresher-2 yrs
#Salary : Hike will be given on last salary
#Panchkula_Location #Sector5
Interested candidates can DM or share their CV at hr@sbinnovations.in OR hr.sbinnovations@gmail.com
Urgent Requirement for Network Engineer (Fresher)
Location : Ahmedabad
Salary : 15k- 20k
Interested candidate kindly mail your resume on: hr@cellonenetworks.com
=======
We have another opening!!
We are looking for Android freshers and trainees to join our team unikwork.
#location: Utran, Mota Varacchha, SURAT.
Interested candidates are requested to send their resume at hr@unikwork.com
Freshers || Java || Chandigarh
Java Fresher who can be groomed into good Software Developer. Good communication Skills, Keen to learn, Good attitude towards work
Key Skills:
Will work on Java, Core Java, J2EE, JSP
Knowledge of C, Jquery and SQL is a must.
Email : hr@dataguise.com
=======
#Job #Opening for ATS (Apprenticeship Trainees) for IFB Automotive Pvt Ltd – soukya Road, Channasandra, #Bangalore.
Qualification: #Diploma – #Mechanical & #EEE
Year of passout : 2017,2018,2019,2020
Age : 18 to 23 years
Experience : Freshers or 0 to 1 year….
Stipend will be Rs.12500/- per month
Interested candidates can drop your CV –
sathish_h@ifbautomotive.com
========
reat Opportunity for freshers!!!
A Reputed Telecom service provider is hiring freshers for its Headquarters in Bangalore.
Location: Bangalore
Pass out year: 2018/2019
Qualification: B.E/B.Tech/M.Tech/MCA/M.sc
Skills Required:Trained on C programming and Certification is mandatory
Cutoff: 65% or 6.5 CGPA, throughout academics (X,XII/ Diploma, BE/Btech, MSC/ MCA –Computers, Mtech)
Service Agreement: 3 years with 5 Lakh value
Salary: 3.7 LPA
Mode of interview:Telephonic/Skype
Selected Candidates will be given free training and certication on 4G/5G protocol
If interested,please contact:
Email: chaitanya.hr111@gmail.com
Call/Watsup: 7981878216
========
urgently need cyber security specialist. Only male candidates can apply. It's a remote project, experienced candidates are preferred, freshers can also apply,
for JD mail us on janhvi@fortuitycorps.com
#cybersecurityjobs #fortuitycorps #workfromhomejobs
=======
urgent hireing
IT Consultant
Exp: 0 – 5 Years
Any Degree
Work Location: Remote Project
Employment Type: Contract basis
We are looking for a dedicated and meticulous IT consultant with cyber security knowledge to join our growing team. Candidates should have strong IT skills and a deep understanding of cyber security. Only male candidates can apply. It's a remote project, experienced candidates are preferred, freshers can also apply,
Job Description
· preferred candidate must have good communication skills
· should have hand-on experience in python, c++, java,
· Strong IT skills including knowledge on hardware, software, networks, and data centres,
· Critical thinking skills, problem solving aptitude
· Forensic approach to challenges
· Desire to self-educate on the ever-changing landscape
· Experience in professional cybersecurity
for more quarries you can mail
us on janhvi@fortuitycorps.com
========
Walk-in Interviews For Freshers- JR Data scientist- Hyderabad
Walk-in Date L 17th July 2020 – 20th July 2020
Qualification : Any Degree, B.Tech,Any PG
Train,Hire and Deployment-
Openings – 10 Positions
Dear Candidates,
This is an Train , hire & Deploy program into the project location. This is for Non Trained candidates on Datascience
Training cost is applicable . in this training our project related modules covered : PYTHON , DEEP LEARNING , ARTIFICIAL INTELLIGENCE,MACHINE LEARNING.,DATA ANALYTICS .
After training candidates get Microsoft certification.
Candidate should give test for job. Its an performance-based test . based on performance salary will be 2 LPA to 3LPA.
Note : its not a consultancy. who are not trained in data science we are providing training less cost under to company train and development scheme.
Interested candidates contact 7670971397/9030219032/7337445746
Email: hr1@ivarinfosystems.com/chaitanyalaxmi@ivarinfosystems.com shusuma.naidu@ivarinfosystems.com
unable to come for walkin : attend in zoom @ after 2:00 pm to 4:00 pm:
Meeting ID : 829 4890 3490 Meeting Password : 234202
=========
Apisero Recruitment for Software Developers at PAN India
MuleSoft Premier Partner, Apisero, is hiring Freshers and Software Developers with 0-3 years experience to join their rapidly growing team across PAN India. Check out the details below and be one of the first to apply by visiting below link.
Desired Skills
0-3 Experience (any technology)
Ability to work in a fast-paced, demanding, rapidly changing environment
Ready for shifts
Office Locations: Bangalore, Hyderabad, Pune, Delhi, Chennai, Chandigarh, Ranchi, Mumbai, and Kolkata
Job Description
Responsibilities:
Apply integration design patterns such as message routing, content enrichment, batch processing, error handling and reconciliation mechanisms to deliver required functionality
Assist in translating business objectives into technical solutions through the use of MuleSoft Anypoint Platform
Coding, testing, debugging, implementing and documenting MuleSoft based flows and integrations
https://info.apisero.com/mule-blitz
Email: careers@apisero.com
========
We have a vacancy or BE / ME Mechanical Engineers freshers or 1 (ONE) year experience in Production or Quality.
Any one interested or for their references please contact undermentioned.
Ph: 7284004001
Mail: hr@jayshaktimetals.com / info@jayshaktimetals.com
========
Looking for freshers from B.E/B.Tech/M.E/M.Tech – CIVIL, MECHANICAL related branches only.
Passout years: 2016/17/18/19
Location: Bangalore. (Outstation candidates please ignore. Do not apply.)
Please e-mail your resumes to:
rakshitha.a@vipsasolutions.com
======
Urgently looking for #net #MVC #Angular freshers at Mohali location. Candidates must have 6 months industrial training in required technologies. Interested candidates can share their resume at hr@ameotech.com
=======
We Are Urgently Looking For Multiple Designations
Position :
1) PHP Laravel Developer
2) Sales Executive
3) Telecaller
Job Location : Rajkot
Industry : IT
Job Time : 10:00 Am To 8:00 Pm
Salary Structure : Up to 20K+ Incentive (Depend On Interview)
Experience : Fresher & Experience Both Can Apply
Interested Candidates Share CV To hr.oscarconsultancyservices@gmail.com
Also Contact Or WhatsApp On Us 7227802004
=======
Job Alert For Freshers.
Qualification:- Any Graduate- B.E. as well.
Designation:- Software Quality Assurance engineer.
Domain:- Media/Gaming/Mobile Apps.
Skills:- Confident, Good English Communication and Written Skills.
Experience:- Freshers
Location:- Pune.
Salary:- 1.2 LPA to 1.8 LPA depend over Interview.
Contact:- +919890722601
Email:- protoninfovision@gmail.com
#hiring #jobs #carriers #openings #freshers
========
Openings for SAP freshers into ABAP modules – Immediate Joining
Terms & Conditions
2 years of service bond
1-3 months – no stipend
4 – 6 months – Rs 12,000/-
after 6 months – Rs 15,000/-
Skils required : Reports, Smartforms, Function Modules, BAPI.
Job location : Andheri – Mumbai.
Interested candidates please mail your resume on careers@knooviq.com
========
#Softenger is looking for an institute provides WebSphere (Middleware) certification for Fresher.
"Fresher with WebSphere certification can apply"
We have a job opening for Websphere certified fresher candidate at Noida Location.
Please share your details on: Juilee.godse@softenger.com
=======
We have a vacancy or BE / ME Mechanical Engineers freshers or 1 (ONE) year experience in Production or Quality.
Any one interested or for their references please contact undermentioned.
Ph: 7284004001
Mail: hr@jayshaktimetals.com / info@jayshaktimetals.com
=======
KGE TECHNOLOGIES PVT LTD, Guduvanchery Looking for MVC .Net, Xamarin or android Freshers for immediate Joining.
Skills Required: .Net C#, MVC, HTML CSS basis, Sql
Salary During Probation: 5,000/-
Post Confirmation: 1,00,000 Per year purely based on performance
Working Time: 9 AM to 5.30 PM [Mon-Fri Only] Role: Jr. Developer
Remote working during Corona, Full Time in Guduvanchery Office post to Corona Issues.
Technical Training provided for CSE\IT background candidates post joining for .Net MVC based on Conditions accepted.
We see technical skill rather than theoretical knowledge, so arrears not a blocker.
Drop your details(Degree & Skill) to hr@kgetechnologies.com
=======
Job Title/ Designation : App Developer
Industry : Media
Annual Salary Offered : ₹ 360000
Min Qualification : Graduation
Preferred Notice Period : Immediate Joiners
Work Location : Delhi
Employment Type : Permanent
Minimum Experience : Freshers Can Apply
Gender Preference : Any
Role requires a wide variety of strengths and capabilities, including:
– Advanced knowledge of application, data, and infrastructure architecture disciplines
– Understanding of architecture and design across all systems
– Working proficiency in developmental toolsets
– Knowledge of industry-wide technology trends and best practices
– Ability to work in large, collaborative teams to achieve organizational goals
– Passionate about building an innovative culture
– Proficiency in one or more modern programming languages
– Understanding of software skills such as business analysis, development, maintenance, and software improvement
Interested Candidates: Please share your CV at tpo@gingerboard.in
========
Let's Help yourself And others in this Pandemic Situation who lost their job.
#Urgrnt #hiring #Ahmedabad #Asp.netdeveloper #connections
AddWeb Solution Private Limited Is Hiring for below Profiles in Urgent Basis (5 Days Working)
1) PHP (Fresher)
3) BDE (Fresher)
Kindly Share CV at khushbu@addwebsolution.com
=======
Urgent Requirement for Network Engineer (Fresher)
Location : Ahmedabad
Salary : 15k- 20k
Interested candidate kindly mail your resume on: hr@cellonenetworks.com
=======
We're looking for Trained (Embedded) #Freshers for #Noida location !!!
#Experience : 0 to 1 Year
#Skills :
Embedded C , C, C++ , Microcontroller , Microprocessor , ARM , Python , Linux
✓Interested candidates may send their updated resume to madhuri.tomar@incise.in
========
Hello Connections! Are you fresher and looking for good opportunity.
We are #hiring!! #Freshers for #web_designer #html_designer. #femal #preferred
Qualification- #BTech/ #BCA / #MCA / *final year/ pursuing #Fresh_graduates who are Tech Enthusiast + Creative can #Apply #
Location- #Dehradun
Job type – Full time. *1 week training.
No. of vacancies- 10+
Interested ones can share their cv at sakshi@pearlorganisation.com | Mention Subject line- Web Designing.
Reference are highly appreciable.
========
We are #Hiring
Position :: Intern Software Developer
Number of position :: 3
Job location :: Ahmedabad
Experience :: Fresher
Skills :: C++, C#, Dot.Net
Education : B.E/B.Tech/B.Sc/M.Sc – CS/IT
Interested candidates can share their resume on sumit.silajiya@mantratec.com
=======
Alite Projects Required 25 *Fresher* Software Developer
Location: *Vadodara*
candidate should know basic JavaScript candidate will be on 3 month training after which they will be converted into employee depending on their performance.
Stipend on training will be up to 6K and then salary can be up to 4L depends purely on performance of candidate.
Add Reference Name: *Dishant Shah*
Interested candidate can share their Resume on hr@aliteprojects.com or can call on 635195303
=======
We are hiring FRESHERS for Software Developer role!
Candidates should have excellent academic records – Candidates must have good communication – Must have strong knowledge in programming languages – Strong analytical skills.
Job type: Full time/ On roll / Permanent Job
Qualification: BTech / BE in CS or IT or ECE
Location: Hyderabad
Salary: Max 3LPA
Interested candidates are requested to share their resume with WhatsApp / mail id given.
Contact – Anila
+91 7708195764
anila.momisworking@gmail.com
=======
URGENT REQUIREMENT
* FRESHER DIPLOMA( 50)
For Bawal
EQ: Diploma in Mechnical/Automobile/Operation /Chain Management
Pass Out 2018-2020
Salary : Rs 12000 CTC( including ESI, PF.
Facilities: bus, Canteen
* HARDWARE Engg(10)
Deploma/ Degree in Hardware & Networking
* FRESHER ENG(50) for khuskera(Bhiwadi)
EQ: Diploma in Mechanical, Salary: Rs11500/- for 8 Hrs, Overtime extra
* WELDER(50): EQ: ITI Welder(Mig, Tig, Spot)
salary: 12000 for 8 Hrs.
SSP GLOBAL JOB
Above Sanjeevni Eye Care Hospital,
New Balaji Market
Near BMG Mall REWARI
Ph.No: 8199976953, 8222876953, 9355176953
E-Mail: sspglobaljob@gmail.com, job@sspglobaljob.com website: www.sspglobaljob.com
=======
Good Day.
Immediate hiring for Freshers on below Technologies
Data science
Java/.Net/Testing/Salesforce/DigitalMarketing
Education: BE/B-tech
passing year:2018/2019/2020
Location: Hyderabad
Interested candidates can share there cv to srilok_00@outlook.com
======
Looking for experienced & "Immediate Joiners" (No freshers) Java Developers (Back end & Front end).
Skill Set:
• Proficient in java with a good knowledge of its ecosystems.
• Solid understanding of object-oriented programming
• Knowledge of concurrency patterns in Java.
• Experienced with one or more Java frameworks such as Spring, Hibernate, JWT, JSF, PLAY, VAADIN, STRUTS, GRAILS, GWT, SWT, and AWT
• Experienced in java GUI frameworks. Knack for writing clean, readable Java code
• Proficient understanding of code versioning tools, such as Gi
• Excellent knowledge of Relational Databases, SQL and ORM technologies (JPA2, Hibernate)
JSP / Servlets:( Web Frameworks like Struts / Spring.  Web Technologies like HTML, CSS, JavaScript and jQuery.)
For Front end:
– Designing and developing user interfaces using AngularJS best practices.
– Adapting interface for modern internet applications using the latest front-end technologies.
– Writing JavaScript, CSS, and HTML.
– Making complex technical and design decisions for AngularJS projects.
– Developing application codes and unit tests in AngularJS, Java Technologies, and Rest Web Services.
– Conducting performance tests.
Send your updated resume to hr@decipherzone.com or call at 0141 4045760
========
Looking for a Civil / Site Engineer in property valuation work for Delhi / NCR Location
Experience / Freshers both are apply.
Interested Candidates can share CV @ abhisheksingh4433@gmail.com or contact on 08750735332
=======
We are looking for Fresher Electronic Engineer.
Location Delhi/NCR
Send your interest or apply
sujata.kalra1@outlook.com
=======
Company Name – Bharti Infra Tel ( Third party payroll).
Designation – Electrical Engineer
Qualification- B.Tech Electrical / Electronics .
Exp / Fresher can apply.
Fresher.
Exp – 2 To 3 Years.
Fresher Salary – 18K CTC.
Exp Salary – 22K To 25K .
This is office job.
Job Location – Gurgaon.
Skills – Communication should be good and Theoretical knowledge should be good. Background Telecom filed , Custer, RF, Etc.
Contact Person – Shamshad Ali .
Email Id – Shamshad@nsjyaccurate.com.
Mob – +91-8860585694.
========
UKB Electronics – Walkin Interviews for Freshers | Diploma Engineer Trainee on 20th & 21st July' 2020
Walk-in for Cipet Engineer Trainee-Manufacturing Industry Noida @ UKB Electronics Pvt Ltd.
Stipend : Rs. 10K
These candidates will be hired as Diploma Engineer Trainee.
Criteria : 2018, 2019, 2020 Batch Passout candidates only
#Date : 20th July – 21st July, 2020
#Time : 9.30 AM – 4.00 PM
#Venue :
UKB Electronics
C-14, Block C, Sector 67, Noida – 201301 (UP)
Contact – Swati – 09821883186
========
Looking for Java Full stack trainer with development experience for a new product development with trained freshers team .
Bangalore
Online classes and product development with freshers team to give real time experience and product knowledge.
If you free and able to train freshers ,Please WhatsApp me on 8885823458 or mail me on saikumar.basavarsu@letsgettin.com
=======
Fresher Openings # Multiple Locations
Vacancies : 32
Location: Mumabi, Pune
Package : ₹ 1,50,000 – 3,00,000 P.A
Skill and Qualifications:
c++, python, c, eee, software testing, mca fresher, plc, ece, testing, electrical engineering, networking, 2020, b tech fresher, scada, core java, 2019, fresher, automation, java, be fresher, asp.net, telecom, electronics engineering, electronics communication
engineer
Job Description
Hiring Trainee Network Engineer
Recruitment For: Wipro infotech
Salary:1.8 LPA – 3.0 LPA
Evision Technoserve (ISO 9001-2008) IT Recruitment Company Hiring Job Intern for Wipro Infotech
If intrested share your resume in given email id : hr@evisions.co.in
=======
Amazon Is Hiring Data Analyst Support urjent
Company : Amazon
Exp: 0-4 yrs
Position : Data Analyst Support
Eligibility : Bachelor's degree in Engineering, Mathematics, Statistics or similar quantitative discipline.
https://www.amazon.jobs/en/jobs/1201507/data-analyst-support?cmpid=SPLICX0248M
=======
We are looking for offline campus fresher recently passed out (may be 1 or 2 year old) in computer science background.
Designation: Trainee Engineer
Location: Bangalore
Engineering percentage with aggregate (Minimum above 75%).
It skills knowledge is mandatory with good communication skills
If above cretaria matches the profile share me your CV to this mail id susheela@manpoweronline.in
#javascript #html #python #sqlserver
=======
BE in Mechanical/Electrical or Diploma in Mechatronics- Fresher.
I am looking for Trainee BE in Mechanical/Electrical or Diploma in Mechatronics. Fresher, based in Bangalore- Immediate joiner. Job Location Makali (Nelamangala).
Interested candidate can send the resume at jai.kumar@biessemnfg.com
#jobopportunities
=======
Denodo
Associate Data Engineer ( Fresher)
Chennai, Tamil Nadu, India
Apply here:
https://jobs.smartrecruiters.com/DenodoTechnologies/743999715314783-associate-data-engineer-fresher-
Qualifications
Fresh Graduates from Tier 1 Institutes with good academic records (65% & above in 10th, 12th, and UG/PG) from 2019 & 2020 batch.
University Degree relating to Information Systems/ Computer Science / Electronics and Communication (Bachelor or Masters).
Good understanding of SQL and a good grasp of relational and analytical database management theory and practice.
Good knowledge of JDBC, XML, JMS, and Web technologies.
=======
Hiring Freshers(2018/2019 batch) for one of our Telecom clients at Bangalore.
Criteria – BE/BTech/MTech/MCA/MSc with 65% or 6.5 CGPA throughout academics.
Stream – CS,IS/IT, ECE,EEE
Pass out year – 2018 or 2019.
Skills – Trained on C programming. 3G/4G/5G Protocol certification is added plus.
Interested candidates can drop your resumes to gaddemrudula@gmail.com
=======
Edureka Hiring Quality Engineer (Fresher) for Bangalore location
Exp: 0-2 yrs
https://careers.edureka.co/job-description/?url=quality-engineer-brain4ce-education-solutions-p-ltd-bengaluru-bangalore-0-to-2-years-060720001935
=======
Urgent requirement !!
We are hiring for "Middleware/ WebSphere Trainee" :
Location – Noida
Experience – 0 to 1 year
Skills – knowledge on Middleware , WebSphere , trained on WebSphere Application Server (WAS).
Candidate must have basic knowledge on WebSphere .
Interested candidates can share their resume on:
Sandesh.Deshmukh@softenger.com
=======
'KEYSIGHT TECHNOLOGIES' : Software QA Engineers @ Haryana –
Exp: 0-2 yrs
https://jobs.keysight.com/job/Manesar-Software-QA-Engineer-2/660446400/
=======
'SYNOPSYS' : Interns (Technical-Engineering) @ Hyderabad
https://sjobs.brassring.com/TGnewUI/Search/Home/Home?partnerid=25235&siteid=5359#jobDetails=1528148_5359
=======
We are looking to hire few B.E/B.Tech – CS/ IT freshers in and around Pondicherry for a start up company. Experience/ sound knowledge in selenium is required. In depth knowledge in PYTHON would be an added advantage. Interested candidates shall send their cv's to bangalore@grcconsultants.net
=======
Good morning.
Job Openings for java developer for bca, MCA, b.e cs background fresher's
It's for 2018 n 19 passed out
Strong knowledge needed in java, SQL , programming languages, software .
Even 6 months exp r considered for this role into java .
Share ur resume to HR
ezhilmathi.t@indiumsoft.com
========
We are hiring Apisero Inc.
Requirements:
0-3 years experience (any technology)
Any Graduate or postgraduate
Ability to work in a fast-paced, demanding, and rapidly changing environment
Office Locations:
Bangalore, Hyderabad, Pune, Delhi, Chennai, Chandigarh, Ranchi, Mumbai, and Kolkata
Responsibilities:
Apply integration design patterns (message routing, content enrichment, batch processing, error handling and reconciliation mechanisms) to deliver the required functionality
Assist in translating business objectives into technical solutions through the use of MuleSoft Anypoint Platform
Coding, testing, debugging, implementing and documenting MuleSoft based flows and integrations
How to Apply:
Apply online by visiting:
https://www.naukri.com/job-listings-Software-Engineer-0-3-years–Sydata-Consulting-India-Pvt-Ltd–Bengaluru-Bangalore-Chennai-Delhi-NCR-Kolkata-Mumbai-Pune-Ranchi-Chandigarh-0-to-3-years-160720000272
========
We are looking for ERP Support Executive on urgent basis:
Job Role: ERP Support/ ERP Implementation Executive
Experience: Upto 1 year(Freshers are also welcome)
Education: B.E(CS / IT/ EC), MCA, BSC/MSC
Job Location: Indore(M.P)
Roles and Responsibilities:
Responsible for remote/onsite training of ERP applications to the clients.
Installation and implementation of the software.
Preparing document/manual on upgrades in the software when required.
Providing application support to the end-users.
Diagnose, analyze, and solve the queries/issues from the clients.
Communicating with customers effectively.
Job Requirements:
Excellent command over English and Hindi language.
Good analytical and problem-solving skills.
Must have basic knowledge of SQL.
Should have professional approach to managing the things.
Interested candidates can drop their CV at hr@processmaster.in or directly get in touch with us at 9644410244.
========
We are Hiring!!
Grab the Opportunity!!
Send us your resume on career@letsnurture.com
#hiring #developers #team #html #contentwriter #iOS #Android #wordpress #uiux #designer #laravel #reactnative #recruitment #jobs #freshers #opportunity
========
We are looking of the Employee for the IT Industry…
Position Open #PHP #Laravel #Developer
Vacancy Available : 07
Freshers and Experience both can apply
Job Location: Rajkot
Salary Structure: 15,000 to 20,000/- pm
Qualification: Bachelor's and Masters in IT
Job Type: Full – Time (10 AM to 08 PM ) include 1 hour break from 01 PM to 02 PM
#Share your #CV on below Mail-ID
Contact Details: –
Ms. Hiral Bhoraniya
(HR Recruiter)
Mobile No: 7227803034
Email Id : hrm.oscarconsultancy@gmail.com
========
#hiring for following profiles:
1) Digital Marketing Executives- 0-2 year experience
2) IOS Developers- 1-1.5 year experience
3) Web Developers- 0-4 year experience
( Skilled in PHP, CI, Laravel, Node JS, React JS)
Location- #indore
Candidates with current location Indore are preferred.
#interested one can share resume at hr@mactosys.com
=======
#HFCL Limited #
we are looking for# ITI #Fitter for Hyderabad & Bangalore Location.
Education: Electronics # Electrical # No B.Tech
student 2018 after passed out
Diploma – Mechanical, Electrical & Electronics
Age: 18-22
Experience: Freshers
Stipened :10000 & Bonus 15000/- every 6 months
Email Id :kumarijyotidashmesh@gmail.com
call 9561358729
=======
Hiring Alert!
Location: Hyderabad
Looking for a Graphic Designer (fresher)
Send in your resumes to marketing@thedrunkenmonkey.in
=======
We Are #Hiring SUPERHEROS
BE / BTECH ( CSE / IT / ECE / EEE ) #Freshers from 2019, 2020 passed out batch.
#OpenPositions
Full stack (JAVA, React JS).
Mobile App (React Native, Flutter).
AI/ML – Python.
Elastic Search.
DevOps.
.NET.
Designers.
Interested candidates please drop your CV to hr@icanio.com
========
We at DCT are looking to grow!
Hiring Freshers for our company. Kindly share your resume at Sana@dctecs.com OR DM me.
Position – 2
Designation – Android & IOS Intern
Qualification Required – BE/B.tech (CS/IT) Fresher
Location- Bhopal
========
Canopus Infosystems Pvt. Ltd. is looking for #phpdevelopers #softwaredevelopers
Designation:
PHP Developer
Job Description:
The candidate must have :
· Knowledge of WAMP, LAMP, CAKE php
· Web Service Development
· XML, JSON parsing
· Strong verbal and written communication
Freshers can also apply. Interested candidates can share their resumes at ankita.agrawal@canopusinfosystems.com
Indore
========
Urgent Looking Btech Mechanical and Civil fresher for Bangalore location
60 percent through out 2017/18/19
Must availability in Bangalore itself
Good in subjecting knowledge
Good in drafting and designing
AutoCAD will be advantage
Immediately joining
Salary 3. 5 lacs
Interesting candidates share resume on
Jrsitjob06@gmail.com
=======
FloCareer (A SAS based HR Tech company) is looking for QA Engineer Interns for Bangalore.
Looking for a team player who has a strong knowledge of software QA methodologies, tools and processes, understanding of Agile/Scrum development process, ability to think out of the box, a strong sense of curiosity, ambition and growth mindset.
Internship duration: 6 months
Stipend available
if you or any of your contact is interested then please drop a message to charmy@flocareer.com
=======
Greetings from Randstad Technology
We have job opportunity with one of our MNC Company (world's largest construction equipment manufacturer) for Chennai location
Experience : 0 – 1 Years
Location : Chennai
Looking for Candidate with below qualification :
Must have UG Degree in Mechanical / Electrical / Civil / Automobile / Production Engineering
Must be passout from 2019 batch, if experience candidate must have experience in technical author or technical writing.
Fresher Should have atleast 60% over all UG
Must have excellent communication and writing skills in English.
Interested candidate kindly forward your resume to sowmiya.dhara@randstand.in or call me @ 8939109282 for more details
========
We have openings for PD and RTL design for freshers & experience candidates.
If any interested candidates please do mail hr@altcognitosystems.com
Location:Hyderabad
========
Snapwiz is hiring for freshers!!!
Role: Java Developer
Role: .Net Developer
Role: Python Developer
Role : C/C++ Developer
Qualifications:
2019 or 2020 graduates required.
BE/ MCA degree.
2020 graduates pursing degree can also apply if they have strong programming language skills
2019 graduates with 1 year of industry experience or completed some training course can apply.
If interested forward your resume to jisha.emmanuel@snapwiz.com
=======
We have opening in Pune Location
1. Android – Pimpri Pune – Experience
2. Flutter – Pimpri, Pune – Experience
3. Dot Net – Pune Location – Experience
4. Manual + Automation Testing – Nashik – Experience
5. Java – Nashik Location – Experience
6. B.com/M.com/CA Inter or Completed – Nashik Location – Freshers/ Experience
Share your Resume on trimurtihrsolutions@gmail.com
========
*Urgent requirement at TVS Supply Chain Solutions Ltd.*
Qualifications : BE Mechanical Engineer and Industrial/Production Engineer.
Location :Hosur
Experience :0 to1 Years.
Fresher's also can apply.
*2019 passed out students only.*
Salary : Negotiable
Male candidates only
Date of interview : 16th July 2020.
Interested can contact the below said person
Sabari P – 9842337301
Or drop your CV to
P.Sabari@tvslsl.com
=======
We have currently planned to on board QA Engineers. Our requirement is –
Experience – Fresher/Experienced (1-3 years)
Salary – Not a Constraint
Position – Test Engineer
Location – Raipur (Magneto offizo)
No. of vacancies – 4
Send your resumes to khushboo.sahu@interbizconsulting.com
=========
JOB in MIDC Pune location for MNC company
** Education- ITI/ Diploma/ Engg / relevant degrees.
** Vacancy for Engg,/Junior Engg/ Welder/ Fitter/ Turner/ Grinder-men/ Fabricator/ Helper with accommodation.
** Skilled and Unskilled both
** Experience- Freshers willing to do hardwork to minimum 8 year.
** Salary range 9000- 22000 CTC.
Other facilities- PF, ESIC, Mediclaim, Uniform, Over time Allowance.
Call now,
Pradip Khedkar
HR
7700901638/ 7718813026
Email us your updated Resume/ biodata/ CV on prachi.m@ipsgroup.co.in, pradeep.k@ipsgroup.co.in
=======
Dear Recruiters i need Gaming developers Unit 3D profiles at earliest freshers and seniors both. Kindly share the profiles with me also u guys can refer candidates directly.
Graduates from Fast University will be preferred.
inbox me or share profiles at alina.masroor@perkshr.com
=======
Position :Java Script Developer
Experience :Fresher to Experience
No of Openings: 2 Nos
Salary : Based on the Performance
Good Package
Np:Immediate Preffered
Loaction: Bangalore
Note:
Strong in Java Script Fresher
Experience should Have Good on Hands on Experience
Ready yo are locate to Bangalore.
Please Contact :
+918072364730
+919840176291
sakthi0387@yahoo.com
========
#Opening for Freshers:
2019-20 passout students can directly apply at amishi@netpaisa.com
#Background: BE, BTECH, MCA/MBA
#Location: Noida Sector 63
#JobType: Full Time
https://www.linkedin.com/posts/amishi-m-6624b2124_opening-background-location-activity-6689137684193042432-G6uL
========
Anyone seeking for a challenging position in a Bangalore based start-up in:
– Full Stack Rails/ PHP Developer
– Frontend Developer
– Social Media Manager
DM me or share the CV to ridhi@tailwebs.com.
Experience required- 0 to 3 yrs.
You don't want to miss out on the opportunity!
=======
Designation-Trainee Engineer
#freshersjobs
#Openings
# Reputed IT Company
# Immediate Joining
#Salary 3Lpa
With good perks like Cab facility & gym& outings&camping&Medical coverage and many more,
# Btech( CS,IT,EEE&ECE)
Must be Graduate or Last in Semester
Location – Noida
Interested candidates mail or DM-
Fascinateprofessional@gmail.com
========
20 Openings for fresher graduates 2020
branch : CSE,IT
#location – Madhapur, Hyderabad
Excellent communication skills ,knowledge on technology and skills
interested please share profiles to heema@thenikharvconsultancy.com
========
Immediate openings For Technical Writers @ Chennai Exp(0-3)
RANDSTAD INDIA PVT LTD
4.0(785 reviews)
SAVE
SHARE
SIMILAR
Job DetailsAbout CompanyReviewsBenefits
Job Highlights
0 – 2 Years
20 Vacancies
Chennai
Not disclosed
fresher, technical writer, Technical Writing
Posted on Jul 14 2020
Job Description
Dear Candidate,
We have an opportunity for Technical Writer role @ Chennai for Immediate joiners. Go through the below details completely and share your updated resume to k.ramakrishna@randstad.co.in only if it is relevant.
NOTE: We are looking only for BE/ B.Tech Electrical Engineering gradudates (both freshers and experienced). Other profiles will not be considered.
Current & Work Location: Chennai, Ascendas IT Park
Experience: Freshers to 1 yr (Experienced candidates should have technical writing experience)
To be noted:
You should have a laptop and good internet connection
Excellent communication (no compromise) as you have to interact with US clients
Employment Duration: 12 months (extendable)
Work from Home till the lockdown is over.
Shif- Day shift (9.30 to 6.30)
Should be available to attend the interviews this week (3 rounds of discussion)
If Selelcted, should be available to join us on 20th/ 27th July.
========
*Greetings from jargon Handlers Software Solution…!!!*
We are hiring for PHP developer, HTML , JavaScript developer, wordpress developer.
No.opening : 10
*Salary: 2 to 4 LPA*
Required Çandidate profile :
Full-Stack Developer – Freshers & Experienced 0-5 years.
Joining from Immediate for freshers and till their notice period for experienced
We are currently filling in 10 positions from Freshers to experienced with knowledge in HTML/CSS/ PHP/ MYSQL
Even if you are fresher, you must possess basic knowledge of the above.
Send in your resume to the following emails vignesh@jargonhandlers.com
harshini@bohapus.com
Location : perungudi, Chennai
========
Hiring PHP Developer****
Company Name – Codes For Tomorrow (CFT)
Experience : Fresher / Experience
Location : Indore.
Joining Period : Immediate.
Eligibility Criteria :
#. Sound Knowledge of PHP/Javascript.
#. Basic Knowledge of Database (SQL, NoSQL)
#. Good Knowledge of PHP Framework/ WordPress/ Codeigniter/ Laravel/ Core PHP.
#. Good written, verbal communication and analytical
skills
Salary : No Bar (Depend on the Interview)
Interview Round : 3 (Online Interview).
Phone Number : 0731 4058698, 7879165016, 9827041964.
Mail ID –
hr@codesfortomorrow.com ,
neha28raghuwanshi2612@gmail.com
Address : B/35 Ground Floor, Veena Nagar Near Sukhliya, MR10 Indore.
=======
Best #opportunity for #2020 and 2019 pass out candidates
Who are looking for 6 months, #free of cost #Stipend will be paid to interns
Accompany us at #HenceForth_Solutions_Pvt_Ltd. , Mohali 8b
After completion of 6 Months training there is a job offer placement in our Organization also . Depend on the performance and interview.
Can Get Opportunities to work on live Projects with Professionals.
Profiles:
#Graphics Designing
Freshers with six months industrial training can also apply.
Direct Walk in to: E-331, Miran Tower, 3rd Floor, Industrial Area phase 8B, Sector 74, Sahibzada Ajit Singh Nagar, Punjab 160071
for further quires you can contact at 7743043836
========
hiring for following positions:
1. #QA(Tester) (fresher.)
Interested candidates can share their cv at #Email ID: Hr@squadmindsinc.com
Contact No.: 7087575993
========
Job opportunity for freshers who have knowledge in Java or dotnet or python or C++. Opening for 2019-2020 batches only.
Anyone interested can forward their resume to jisha.emmanuel1705@gmail.com
Job location: Bangalore
=======
We have opening for Full-Stack Developer
Experience – Freshers to 1 year
Requirement – Must have good Experience/ knowledge on Node.js, Java/JavaScript, HTML, CSS, etc.
Excellent Communication Skills.
Must have above 85% maths marks of 10th and 12th std.
Location – NSP, Delhi
Working Days- 5
Company – IT Software Company
Immediate joiners only
hr4@deeplogictech.com
========
Honeywell Off Campus Recruitment
Job Role: Software Engineer
Eligibility: B.E./B.Tech
Job Location: Bangalore
Experience Required: Fresher/Experience
https://careers.honeywell.com/us/en/job/HONEUSHRD96643EXTERNALENUS/Software-Engr-II
=======
DXC Technology Recruitment 2020 for Software Developer at Bangalore
ducation: B.E / B.Tech (CSE, ECE, IT)
Last date: ASAP
Job Location: Bangalore
Skills: Java, JavaSript, HTML, CSS
Experience: 0-2 years
Job Code: DXC Technology Software Developer Job Opening
https://jobs.dxc.technology/ShowJob/Id/946389/Associate%20Professional%20Application%20Developer
=========
Wipro Limited Off-#CampusRecruitment 2020 | #Graduate Freshers are Eligible |
Hyderabad
Job Role – eLearning Instructional Design-Developer
#Experience – #Fresher's
Wipro #RecruitmentSelectionProcess: All interested and eligible candidates are requested to visit their official website and fill the application form. The further process will inform you through your mail.
#JobDescription: As a developer, you are responsible for the development, support, maintenance, and implementation of small to medium components of a project module. You should be able to work on problems of limited scope, through the usage of standard software development concepts and principles. You should have good knowledge of programming language(s), and associated tools.
https://careers.wipro.com/careers-home/jobs/1366249?lang=en-us
========
#Fresher JObs
#Hyderabad Fresher Jobs
#.Net Fresher jobs
Looking or trained .net freshers for an software company in Hyderabad.
Please send resumes to kishore@konnexz.com
=======
Oracle Corporation Off Campus Hiring Freshers As Applications Developer- BS/B.E/B.Tech
Job Profile: Applications Developer
Degree Needed: BS/B.E/B.Tech
Exp Needed: 0-2 years
Work Location: Bengaluru
https://oracle.taleo.net/careersection/2/jobdetail.ftl?job=20000INI&tz=GMT-05:00&tzname=America/Chicago&src=JB-10145
=======
Commscope is hiring Quality Assurance Engineers
Location: Bangalore
Exp: 0-2 Years
Apply Link –
https://jobs.commscope.com/job/Bangalore-QA-Engineer-KA-560042/623006900/
======
Looking for freshers from B.E/B.Tech/M.E/M.Tech – CIVIL, MECHANICAL related branches only.
Passout years: 2016/17/18/19/20
Location: Bangalore. (Outstation candidates please ignore. Do not apply.)
Please e-mail your resumes to:
divya.r@vipsasolutions.com
=======
Media Moments is looking for Interns. Location – Bangalore.
1. Graphic Design – Intern and 2. Content Writer – Intern.
All freshers out there who would be interested to join us for Internship, please forward your resume to – paritha.k@mediamoments.in
#fresher, #graphics #content#creative#copywriter
=======
Hello Connections, We are hiring for, Internship – Artificial Intelligence
Location: Bangalore, Karnataka, India
Topics: Artificial Intelligence, Machine Intelligence, IOT etc.
Qualifications
· B Tech/M Tech in Electronics
· Willing to learn new technologies
· Good written & Verbal communication
Opportunities
· The interns will be provided with opportunities to work in real time projects & will get hands-on experience in the field.
· The interns may get selection to permanent employment, depends on the performance.
Apply Here:
https://www.cyberpool.io/jobs/35697227-internship-artificial-intelligence-at-eldaas-technologies-inc
========
Robolab Technologies is conducting an internship for #Mechanical #Engineers.
Qualification – BE/ BTech from Mechanical or #Production or Design Engineering
Both #freshers and experience graduates can apply.
#Jobs #punejobs #Pune

=======
Excellent opportunity with HCL for Freshers – 2018/2019 Passed Out !!!
Mode of interview: Video Call
Job location : Noida
Interested Candidates who have 70% Marks in all academics (10th,12th,B.E/B.TECH i.e., ECE/CS/EEE/IT) can share your CV to saranyas.sar@hcl.com with the below mandatory details.
profiles cannot be processed without any mandatory details, so please ensure before reverting.
Kindly Mention the subject as " Ref From LinkedIn"
Name:
Contact No:
Mail ID:
Year of Passed out:
UG Percentage:
UG Specialization:
12th Percentage:
10th Percentage:
Current Location:
Contact Person: Saranya
Note: only shortlisted candidates will receive the call letter.
kindly avoid sharing experienced profiles/2020/any other specialization
========
Looking for experienced/fresher engineers, with agility to work towards taking up new challenges for developing out of the box product ideas.
Must be enthusiastic about IoT, Power Electronics, Automation system development.
Location: NOIDA/NCR
Email: info@uznaka.com
=======
Hello Connections,
We are Hiring!
Open Position:
1. HR Recruiter
2. Web Developer
3. Account Executive
Experience: 0-1 Year
Location: Mysore
If interested, please share your resume to daksha@lancelottechnology.com
=======
Worksbot is hiring!
Position : Web designer
Qualification : CSE / IT / ECE / BSc / MSc / MCA
Eligibility : Fresher (2019 & 2020 Passed outs only)
Skill sets : HTML, CSS, JavaScript, jQuery, Bootstrap
Salary : As per company norms
Job type : Work from home
Interested drop your updated CV to priya@worksbot.com
=======
#iPAC HIRING #FRESHERS
*Job Role:* Trainee Engineer
*Qualification:* #Instrumentation Fresher
*Location:* #Pune
https://docs.google.com/forms/d/e/1FAIpQLSfNDNptOe8T2cduSanfWfg3zWwxBNArzFbqipb_m4UF2dxO3g/viewform
=======
Opportunities for Fresher with one of the Leading webapplication/Mobile application software Development company based out of Mumbai.
Job Role : Business Development Executive.
Education : BSC-IT, BCA, MCA, BTECH, BE- Computers.
candidate should have excellent communication.
please email your resume at poonam@focusonit.com
#fresherjobs #fresherhiring #fresher #business development
======
Gyrix TechnoLabs is looking for following position!
Mern/Mean Stack Developer (0-2 year)
Business Development Executive (0 – 1 year)
Designer UX/UI (0-1 year)
Location: Indore, Madhya Pradesh
Fresher and Experience both can apply and share result at Career@HrDiwakar.Com in Cc ankur.tiwari@gyrix.co
========
Actively looking for #Nodejs_Developer
Experience: 0-1 yr
Skills required: #nodejs #mongodb #mysql #javascrpt #ajax
Location: #Noida (Work from home for experienced candidates but freshers might need to report to office for training purpose)
Interested candidate can share their resume at 𝐣𝐮𝐡𝐢@𝐞𝐱𝐜𝐞𝐥𝐥𝐞𝐧𝐜𝐞𝐭𝐞𝐜𝐡𝐧𝐨𝐥𝐨𝐠𝐢𝐞𝐬.𝐢𝐧
=======
Dear Candidate, ( For B.E – EEE Freshers)
We have an opportunity for Technical Writer role at Chennai for Immediate joiners.
Go through the below details completely and share your updated
resume to k.ramakrishna@randstad.co.in
only if it is relevant.
NOTE: We are looking only for BE/ B.Tech Electrical Engineering gradudates (both freshers and experienced). Other profiles will not be considered.
Current& Work Location: Chennai, Ascendas IT Park
Experience: Freshers to 1 yr (Experienced candidates should have technical writing experience)
To be noted:You should have a laptop and good internet connection
Excellent communication (no compromise) as you have to interact with US clientsEmployment
Duration: 12 months (extendable)
Work from Home till the lockdown is over.
Shift – Day shift (9.30 to 6.30)
Should be available to attend the interviews this
week (3 rounds of discussion)
If Selelcted, should be available to join us on 20th/ 27th July (the date will be decided by the organization)
If interested, or for any queries, mail your updated resume to k.ramakrishna@randstad.co.in
https://www.naukri.com/job-listings-0-to-2-years-140720003551
=======
Immediate Requirement For Embedded Software Engineer
Experience 0- 2 Years
Location – Bangalore
Notice Period- Max 15 Days
We are looking for Functional Safety Engineer
Job Description-
1) Sound Knowledge and Experience on software Programming using C and Embedded C
2) Sound Knowledge of Microcontrollers
3) Understanding and Experience of UART, SPI, I2C, CAN communication protocols
4) Sound Knowledge of Hardware and understanding schematics, chip manuals, datasheets, etc.
5) Experience on functional and unit testing
6) Knowledge of compilers and debuggers
7) Basic Knowledge of Autosar
8) Self-motivated and quick learner
Note- For freshers, certification is required.
If Interested , please send me your resume on Priyanka.mishra@iast-Software.com
========
Hello Everyone,
We are hiring Java Developer- Fresher with Java Certification.
Please share your profile with poornima@minusculetechnologies.com.
Regards,
Poornima Palanisamy
Minuscule Technologies Pvt Ltd.
Chennai
========
Looking for .Net developers with 1 to 2 years of experience. Freshers will also be considered.
Please send me your cv to sindu@matslanka.com.
#dotnet #itjobs #hiring #softwareengineers #mats #careersbymats
=======
Multiple Hiring In Naapbooks Private Limited #Ahmedabad Location
1. Android React Native Developer: 0-2 Years (High Priority Hiring)
2. React Js Developer: 0-4 Years
3. .Net MVC Developer: 0-5 Years
4. Frontend Angular Developer: 0-2 Years
Interested jobseeker can apply on careers@naapbooks.com Or can reach to 09016323173 for further details
=======
Looking for freshers from B.E/B.Tech/M.E/M.Tech – CIVIL, MECHANICAL related branches only.
Passout years: 2016/17/18/19/20
Location: Bangalore. (Outstation candidates please ignore. Do not apply.)
Please e-mail your resumes to:
divya.r@vipsasolutions.com
=======
Diploma Freshers Hiring in Hyderabad
Salary : Rs. 9K to 10K In hand + Insurance
Degisnation : DET (Diploma Engineer Trainee)
Location – Hyderabad (Shamshabad)
Candidates must be 2019 / 2020 passout (Mechanical / Electrical and Electronics)
Interested can share resume pooja.shrestha@talentpull.in
Mobile : 08556870992 / 08360916975
========
Lucas TVS – Neem TRAINEE – 3 Years (NO ESI – NO EPF)
No. of Vacancies : 50
Educational Qualification : Diploma Mechanical,Automobile Production,EEE & ECE.
Age limit (if any) : Freshers and upto 2016 pass outs even with arrears(Upto 3 Arrears).
Basic Stipend – 12330/-Only (for Arrear candidate)
Stipend per month : Rs.13830/-( All clear candidate)
Basic Stipend – 12,300 + 500(Attendance bonus) + 1000(Skill Allowance)
Totally – 13,830/- stipend for All clear candidate.
Yearly once 1000rs will be increase.
Deduction :
Canteen 10×26 days – 260rs per month
Transport 3×26 days – 78rs per month
Will transportation be provided to students' base location for them to be picked up: YES
Free accommodation support be provided to them during this pandemic period.
Any other benefits (Canteen/Transportation/Uniform/OT)
Contact person
Sathish – 8667834678
Mail id – sathish.d@tvsts.com
We are providing bus for pickup candidates from their place to Chennai.
Date: 18.07.2020, Saturday.
Routes are below:
Vellore,Arcot,Walajah,Kaveripakkam,Ocheri, Kanchipuram,Tiruvallur.
=======
Required –
Polytechnic Diploma – Mechanical, Automobile, Mechatronics, Tool & Die Making
Freshers or 0 to 2 years experience
Jigani, Bengaluru location
JD : Work on assembly line
Salary : Rs. 12K to 15K
Two times food free
Call on mobile : 07760679928 / 06361390603
======
Urgent Opening!!!!(Telephonic interview)
Trainee/Fresher
Department: DRA (OSD)- Row Market
Job Location: Hyderabad
Call/Wp: 7698888160
Email:varshawfh1@gmail.com
=======
Looking for a Job during this pandemic…
We have urgent opening for Freshers and experience both.
Qualification required – ITI Diploma, B-Tech # #
Industry type – Sheet Metal
Job Profile – Quality Inspector
Job Location – Gurgaon
For further discussion about the salary you can reach out to me anytime .
calling & whats app number – 7350480220
Email – singhvikash1406@gmail.com
You can also share your updated CV .
========
Looking for 1 intern (2 months) & 1 Assistant Designer (1-2 years/freshers).
Send your Cv – anwanstudio@gmail.com
Location- Delhi
Regards
Anwan Studio
#internship #job #designer #student #creative
=======
Hiring for PHP/Laravel/Node JS /React JS Developer
Experience : min 6 months
Freshers are welcomed
Location : Ahmedabad
Interested one please share resumes on hr@qrioustech.com
=======
We are Hiring. Positions open in Bengaluru for IBMS Service Engineers and IBMS Operators. Freshers also could apply. Email your resumes to hr@valueibms.com or message me in Linkedin or visit our website www.valueibms.com and apply online.
=======
Reliance Jio
Fresher opening
Graduate Engineer Trainee [60821897] Mumbai
https://careers.jio.com/frmjobdescription.aspx?JBTITLE=4kM4K4OpmW7ghVhTPm3ijQ==&jbID=LGrBiZDouc/LzJNULiZqXg==&funcCode=ZZTa6Mgn2qI=
=======
I have urgent requirements/opening in SAP FICO
Location: Bangalore
JD: SAP FICO, Globally Certified
Experience: Fresher(Female)
Interested candidate kindly ping me or share me the resume at sangeetha.s@jaastechnologies.com
=======
Hyderabad
We Osmosys Software Solutions hiring Freshers for Test Engineer & Lead Generation Roles. Mentioned below are the required skills:
Excellent communication skills both verbal and written in English is a must.
Attention to detail and strong problem-solving skills are critical
Good organizational skills and the ability to do multitask.
The ability to work in a team environment is essential
Knowledge of manual and automated testing is a plus
Knowledge in SDLC, STLC and bug tracking is a plus
Basic skills in programming languages such as Java, J2EE, AJAX, HTML, CSS, JavaScript is a big plus.
Interested applicants can share your resumes to sivanagaraju.m@osmosys.asia
https://www.naukri.com/job-listings-hiring-freshers-for-test-engineer-lead-generation-roles-osmosys-software-solutions-pvt-ltd-hyderabad-secunderabad-0-to-0-years-100720001191?src=jobsearchDesk&sid=15944189376527903_5
=======
Greetings from Bharati Robotic Systems India Pvt Ltd! #Startup Job opening for #embedded #Robotics Devops@ #pune Location #india
Requirement: #Embedded #Robotics Devops Engineer
Experience: #Fresher or Final Year #BE/ B.Tech students can apply
Work Location: Pune
The probationary period: 6 Month
A brief about the role:
The role of an Embedded System / Robotics Engineer Trainee would require the following skills:
Required Skills:
• Ability to work independently as well as in a team
• Strong analytical skills and problem-solving aptitude
• C, #C++ programming for real-time control & #ROS
• Comfortable writing and debugging C, C++ and #Python Code
• Developing simple models of complex systems
• Hands-on Experience with all Embedded Hardware & Linux, etc..
• Excellent circuit analysis fundamentals
• Electronics debug and failure analysis
• Demonstrated experience using schematic capture and PCB layout software
• 3D Camera and Laser
Desired Skills:
• Control of multi-DOF systems, Familiarity with Control System
• The dynamic calculation, Optimization and #Pathplanning
Interested candidate, please drop an email with an updated CV to jerwin@brsindia.com
========
1) Hiring Java Developers-Freshers or 1 Year experience 2) Looking for Unix/DevOps stack experts with 0-2 Years experience. Location: Chennai. Send your resumes to srivatsan@vastpro.in
=======
Intel India is conducting an interview for the post of MPE Product / Test #Engineer.
Qualification – Bachelor or Master degree in #Electrical or #Electronic or #Computer #engineering.
Both #freshers and experience graduates can apply for this #job.
https://jobs.intel.com/ShowJob/Id/2530441/MPE%20Product%20Test%20Engineer
========
Openings at questxl, Bangalore for QA engineers.
Work Location – visakhapatnam.
Qualification – B.Tech,M. Tech,Electrical, electronics and mechanical branches.
Experience is preferred.
Share your CV at
ayaluri.santhosh@gmail.com
========
Looking for 5 Interns for Robitics ProcesS Automation Team for Mazars Global R&D Center- Mumbai.
Must be frm B.Tech – Computers, having basic understanding of RPA,Algorithm and Automation.
Receivings from Internship ::-
– Work with Global RPA Team.
– IQ bot coding and development.
– Better understanding of Attentive and Non Attentive IQ bots.
– Will interact with India/Nigeria/Mexico and Singapore team all together.
Very selective in terms of selecting interns for this project.
Interested can drop note at shubham.tripathi@mazars.in
=======
Are you looking for new opportunities in
Java, .Net, Devops & salesforce
Please call me on 7705739797 or Please share profile to pvenkat@deltainfosys.com
Note: Freshers are most welcome
=======
We are looking for a candidate for a QA position.
Company Name: Algoworks Technologies Pvt. Ltd.
Location: Noida 62
Experience Fresher,6 months,1 year
Job Description:
Sound knowledge of SDLC, Software Testing Life Cycle (STLC) and different testing methodologies
Good knowledge on Test Case preparation, review & execution, Defects review, and management, Black Box Testing
Executing test iterations, tracking/reporting solutions, troubleshooting, and coordinating defect resolution.
Ability to multi-task, work independently.
Please email us your resume to hr@algoworks.com
=========
Looking for freshers from B.E/B.Tech/M.E/M.Tech – CIVIL, MECHANICAL related branches only.
Passout years: 2016/17/18/19/20
Location: Bangalore. (Outstation candidates please ignore. Do not apply.)
Please e-mail your resumes to:
divya.r@vipsasolutions.com
=======
We are currently looking for React-native developers with the following JD.
Educational Qualification: B.E., M.Tech, BCA, MCA. Applications from candidates in the final year of their degree program with required skillset will also be considered.
Job Title: React Native Developer
Experience: Fresher
Skills Required: React Native, React.js, Javascript, Jquery, HTML, Bootstrap
Job Location: Bangalore
Salary: upto 1.8 LPA
Interested candidate share updated #cv to : sonika@placjo.com
Note : preferred who had done react-native course or project
=======
Immediate & Excellent Opportunity for #Embedded Trained #Freshers !!!
Location : #Noida
(North side candidates Preferred)
✓Interested share resume to Shubhanshi@incise.in
=======
Job Openings For Developers(Service Now,UI/UX,Java,C++,Python &.NET) and Inside Sales(Freshers) In Inmorphis At Bangalore And Noida
Inmorphis is hiring for no. Of positions.
ServiceNow Developer ( min 1.5 yr exp)
UI/UX Developer (3-6 yrs exp)
Inside Sales- MBA in marketing having Saas knowledge ( both freshers & experienced can apply)
Java, C++, Python, dot net-1-3 yrs exp ( immediate Joiner)
Location: Bangalore/ Noida
Contact: Hr@inmorphis.com
========
Opportunity for the Fresher + Works from Home until COVID'19 Pandemic Effect is under control. (20 vacancies – Surat & Ahmedabad)
We are going to hire employees for the below technologies:
1. Nodejs
2. Reactjs
3. Angularjs
4. React Native
5. iOS
6. Android
7. Unity
8. PHP – Laravel/ Codeigniter
9. WordPress
Our work culture:
1. Flexible working hours
2. Working with Emerging technology
3. Highly experienced team
4. Expertise in multiple domains
5. No hierarchy
Note:
We will schedule an interview over telephonic/skype due to the Pandemic Issue.
Must Require: BSc, BTechIT, BSE, MCA, MScEng, MScIT
(BCA or Electrical or Mechanical are not eligible for this role).
Office Location:
Varachha Road, Surat & Satellite Road, Ahmedabad
Interested candidate share resume on drishti@artoonsolutions.com
===========
We at Hexamarvel Technologies are hiring for the below positions with 2+ yrs of experience!!
1. PHP developers
2. Front end developers
3. WordPress developers
4. Python developers
5. Laravel developers
6. Full-stack developers
We are also looking for freshers for the above positions. Interested candidates, please share your resume to hrm@hexamarvel.com
Coimbatore
========
Accentiqa System Pvt Ltd – One of the fastest growing IT firms, looking for aggressive, result oriented "FRESHERS" Professionals
Location : Hitecity, Hyderabad
Duration : Full Time
Experience: 0 -1 year
Education Background : Bachelor of Technology –
if you Have any resumes Please share me at kranti@accentiqa.com
=======
Looking for Graphic Designer
Location- Sec 58, Noida
Experience- 0 to 2 years
Interested can share their resume at strausssport.hr@gmail.com
========
We're looking for two design freshers to join the Design team at Indexnine Technologies in Pune;
1 UX Designer (0-1 yr)
1 Visual Designer (0-1 yr)
Interviews and Onboarding will be remote and the team member can be working remotely to begin with, but will have to join at the Pune office when operations resume. If interested, please PM me or write to careers@indexnine.com.
========
Gyrix TechnoLabs is looking for following position
Mern/Mean Stack Developer (0-2 year)
Business Development Executive (0 – 1 year)
Designer UX/UI (0-1 year)
Location: Indore, Madhya Pradesh
Fresher and Experience both can apply and share result at ankur.tiwari@gyrix.co
========
Urgently hiring MS-SQL Developer for a well known client at Hyderabad
Job Title – MS-SQL Developer
Job Responsibilities:
· Designing databases and ensuring their stability, reliability, and performance.
· Design, create, and implement database systems based on the end user's requirements and Improve application's performances.
· Prepare documentations for database applications and Memory management for database systems.
· Develop database schemes, tables and dictionaries and ensure the data quality and integrity in databases.
· Fix any issues related to database performance and provide corrective measures.
· Create complex functions, scripts, stored procedures and triggers to support application development.
· Take regular database backup, test databases and perform bug fixes.
· Develop best practices for database design and development activities.
Key Skills Required:
• Excellent understanding of Microsoft SQL Server and knowledge of functions, Packages, Triggers, Records, Cursors, Stored Procedures, T-SQL, SSMS.
• Good knowledge of HTML and JavaScript.
Location: Hyderabad
Education – Graduate is must /Diploma
Experience – 0 year to 1 year | Fresher | Trainee | Intern |
If interested revert me back with cv on ekta@irisconsultant.com or share with your friends
This page will Update Every 24 Hours With New Job Openings.
If You Have Any Queries/ Suggestions / Doubts/ Complaints, Feel Free To Comment Below.
~Check More Updates~