JNTUK MCA 5rd, 6th Sem Academic Calendars: JNTUK MCA III Year V & VI Semesters Academic Calendar for the A.Y. 2019-2020, Jntu Kakinada Academic Calender for Integrated MCA for 2017 Batch. Academic Year will have a period of time. In which schools, colleges, and universities use to measure a quantity of study. A calendar is a procedure for the system of organizing days for social religious. Academic Calendars will give the procedure of a particular period of time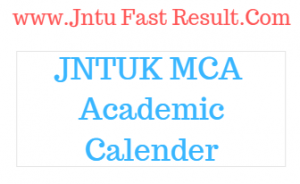 JNTUK MCA Academic calendar:
JNTU Kakinada has announced the  Academic Calendar for Integrated MCA III Year 2017 admitted Batch. For more details, you can visit the official notification
MCA III YEAR V Semester Academic Calendar for 2019-2020 Batch
Commencement of Class Work:10-06-2019
I Unit of Instructions: 10-06-2019 to 03-08-2019
I Mid Examinations: 05-08-2019 to 10-08-2019
II Unit of Instructions: 12-08-2019 to 05-10-2019
II Mid Examinations: 07-10-2019 to 12-10-2019
Preparation & Practicals : 14-10-2019 to 19-10-2019
End Examinations: 21-10-2019 to 02-11-2019
Commencement of Class Work for II Semester: 04-11-2019
MCA III YEAR VI Semester Academic Calendar for 2019-2020 Batch
Commencement of Project Work:18-11-2019 to 28-03-2020
Viva Voice:30-03-2020 to 11-04-2020
Download the official MCA III Year Notification here- Click Here
If You Have Any Queries/ Suggestions / Doubts/ Complaints, Feel Free To Comment Below.
MAIL US AT ANY TIME: JNTUFASTRESULTS@GMAIL.COM OUR TEAM WILL GIVE REPLY TO YOU AS SOON AS POSSIBLE.
More Update