Telangana Govt Dasara Holidays 2019: Here we are Announcing information regarding the TS bathukamma festival and Telangana Vijayadashami Holidays or TS Dasara Festival Vacation Holidays for all schools and Colleges and Intermediate colleges and university govt colleges and private engineering college and TS Degree colleges Vijayadashami holidays.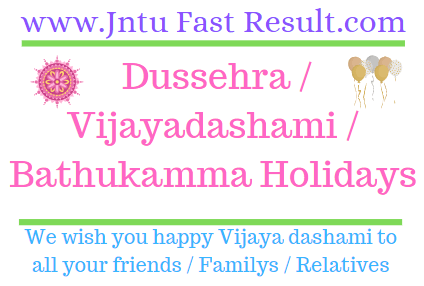 Telangana Dasara Festival Holidays Oct 2019:
| | |
| --- | --- |
| State | Telangana (TS) |
| Category | Holidays / దసరా పండుగ |
| Status | Released |
| Official website | www.tsgovt.com |
Telangana Govt Dasara Holidays 2019:
తెలంగాణలోని విద్యాసంస్థలకు దసరా సెలవులను ప్రభుత్వం ఖరారు చేసింది. దీనిప్రకారం రాష్ట్రంలోని అన్ని పాఠశాలలకు సెప్టెంబర్ 28 నుంచి అక్టోబర్ 13 వరకు దసరా సెలవులు ఇవ్వనున్నట్లు పాఠశాల విద్యాశాఖ ప్రకటించింది. దీంతో 16 రోజులపాటు దసరా సెలవులు వర్తించనున్నాయి.
Telangana Vijayadashami / Dasara Holidays In TS: దసరా పండుగ:
The schools will reopen on 14th October. Dussehra holidays will be applicable for all the CBSE, SSC, and ICSE schools in the state of TS. While the Dussehra holidays for Government and Private Junior Colleges will be given from 28th September to 13th October. Colleges will be reopened from 14th October onwards. Hence the college students of Intermediate, Degree, PG, and various other courses can make a note of this.
TS Dussehra/bathukamma festival Holidays 2019 – Details:
The Government of Telangana declared holidays to all the Private / Government
/Aided / Degree / Polytechnic including Engineering, Law, MBA, MCA, Pharmacy and
University Colleges except Medical Colleges
In this connection, the Principals of the Constituent and Affiliated Colleges of JNTUH and Directors of all the Academic Units of JNTUH are requested to declare the holidays till 19th October 2019.
The Classes will commence from 21st October 2019
| | |
| --- | --- |
| TS Inter Dussehra Holidays | 28th September to 19th October |
| TS School Dussehra Holidays | 28th September to 19th October |
| TS Degree Dussehra Holidays | 28th September to 19th October |
| TS Engineering Dussehra Holidays | 28th September to 19th October |
TS General & Optional Holidays List 2019 
Osmania University Dussehra Holidays 2019
AP Dussehra/VijayadashamiHolidays 2019
What is bathukamma festival?
Bathukamma is floral festival celebrated predominantly by the Telangana and some parts of Andhra Pradesh. Every year this festival is celebrated as per Shathavahana calendar for nine days starting Bhadrapada Pournami till Durgashtami, usually in September–October of Gregorian calendar
How to Check TS Festival Holidays 2019 | TS దసరా సెలవులు 2019:
Here we inform this notification to all the TS Intermediate colleges and Inter Sr chithanaya and Inter Narayana colleagues also along with with Private schools and Public schools under in TS and TS school holidays for Dussehra festival and TS Engineering colleges holidays for Dussehra and TS Govt Degree colleges and TS Degree Holidays for Dussehra holidays.
If You Have Any Queries/ Suggestions / Doubts/ Complaints, Feel Free To Comment Below.
~Check More Latest Updates~